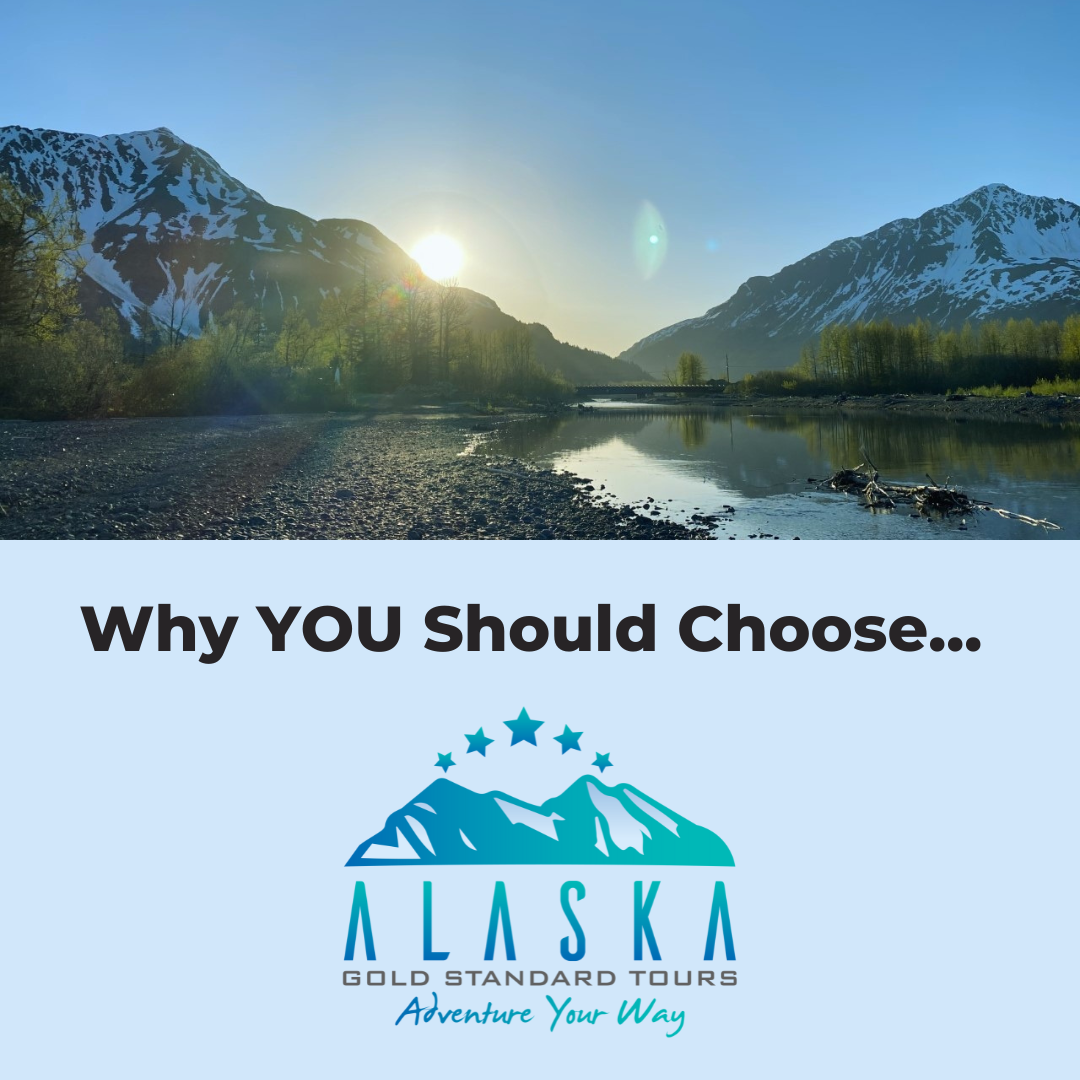 Why Choose Alaska Gold Standard Tours?
We know there are so many operators who sell packaged tours in Alaska and we wanted to give you the opportunity to learn what sets Alaska Gold Standard Tours apart from our competition!
All-Inclusive with Alaska Gold Standard Tours:
First and foremost, we are truly ALL-INCLUSIVE! Our tour prices include all meals, accommodations, activities, taxes, and tips. We know that many of our competitors are able to offer lower tour prices because they do not include all the meals and tours in their pricing.
For example, most of our competition provides breakfast each morning and some lunches or dinners while on the tour…whereas we have taken the time and effort to ensure that you will be sitting down to eat a fantastic meal at the best restaurants in the area, finding the tastiest boxed lunches for busy travel days, and having breakfast be ready for you at the hotel when you wake up. We also include snack bags and water for all guests during travel between destinations.
When traveling on one of our competitors' tours that do not include all meals, passengers are dropped off in an area with restaurants (fast food or spendy sit down meals) and then left to figure it out for themselves. What a lot of travelers to Alaska do not realize is how much more expensive it can be here than in the lower 48! The average meal price for two adults at a sit down dinner in Alaska can be anywhere from $55 to $100. Now imagine, every day of your "stress-free" vacation you are met with this surprise and have to spend an additional amount on top of the tour price, just to be able to eat!
Leave the worries behind and let us serve you the best Alaskan meals when traveling with Alaska Gold Standard Tours!
Customization with Alaska Gold Standard Tours:
We include all listed tours in our pricing, which leads to the second best part of traveling with Alaska Gold Standard Tours, CUSTOMIZATION!
That's right! We let YOU choose which activity you want to do during certain days of our tours. We include many different activities in our tours, like flight-seeing, white water rafting, ATVing, zip-lining, glacier & whale watching, wine tastings, and more! Want to learn more about the included activities on our tours? Click HERE!
In comparison to our competitors, most offer the ability to book a tour when traveling with them, but of course, that is not included in the base tour price! Not with AGST, we include all the tours listed in our itineraries!
Upgrades:
We do offer some tour options that are included, but require an upgrade fee. What is an upgrade fee? It is when AGST gives you a credit for the tour that you are opting out of, and then charges the difference for the tour you choose to switch to.
Now that we went over the top two reasons to travel with Alaska Gold Standard Tours, here are a few more reasons to convince you!
Not only are we one of the only all-inclusive and customizable multi-day tour options in Alaska, we are proud to say that all of our tours were created by an Alaskan. Which means, we know where the best destinations are in the state to take you! Alaska is massive, with long travel times to get between the top destinations. We know the best routes to take you to see the very best locations in the state!
We also offer complimentary one-on-one calls with our Director of Operations, Brenna, who would be happy to walk you through the tours to help you decide which is the perfect fit! Click HERE to schedule your complimentary call now!
We hope you enjoy our breathtaking and majestic state!