Alaska Dreamin' 10 Night/ 11 Day Guided Land Tour
$7700
per person
This 10-night, 11-day Alaska Dreamin' fully-guided bus tour is a perfect adventure for independent travelers or groups. The schedule is also coordinated for passengers departing on a Royal Caribbean or Celebrity cruise from Seward.
Alaska Dreamin' Tour Description
Our Alaska Dreamin' tour will bring you to experience the major highlights of Alaska from its dramatic mountain and coastal scenery to Alaskan wildlife. You'll venture into the rugged interior for a trip of a lifetime into the heart of the Denali National Park, with the opportunity to witness wildlife along with awe-inspiring panoramic views. Spend a morning exploring the charming town of Talkeetna, famous for its views of magnificent Mount Denali, and travel down Seward Highway, one of America's most scenic routes, visiting Kenai Fjords National Park to marvel at glaciers, mountains and wildlife.
Additionally, our Alaska Dreamin' tour will bring you to Fairbanks, Chena Hot Springs, and Homer! Thus, allowing you to experience the magic of going to the far north, where you will have the opportunity to soak in the majestic Chena Hot Springs and explore the legendary Ice Museum. Your journey to Homer along the Sterling Highway will offer dreamy views filled with towering mountains and incredible coastal views. Lastly, our Alaska Dreamin' tour is all-inclusive and customizable to ensure this is your dream vacation!
Tour Highlights
Anchorage + City tour
Denali National Park
Chena Hot Springs Resort
Talkeetna
Flightseeing around Denali National Park
Alaska Railroad Denali Gold Star Service
Alaska Wildlife and Conservation Center
Alaska Sea Life Center
Reindeer Farm
Iditarod Museum
Musk Ox Farm
Homer
Bear Viewing Boat Tour in Homer
Soldotna
Cooper Landing
Kenai River Float
Exit Glacier
Seward
Glacier and Whale Watching Cruise in Kenai Fjords National Park
Activity Level and Appropriate Age:
This tour is suitable for all activity levels and ages.
Group size: 
Up to 30 people on this tour.
Tour Dates and Options:
Tour is available May, June, July, August, September
Please inquire directly about tour dates. Our representatives can help you customize any of our tours. Call us directly for any questions: 907-414-6454
Departure

Tour starts in Anchorage and ends in Anchorage for those flying out or in, begins in Seward for those disembarking a cruise.

Included

Accommondation

All Activities as per itinerary

All Meals

All Transfers

Baggage Handling

Fully Guided Service

Gratuities

Professional Tour Guide

Taxes
1
Day 1: Arrive in Anchorage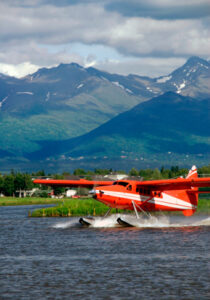 Your exciting journey begins with your arrival into Anchorage, Alaska's largest city. While it's home to more residents than any other city in the state with a population of over 300,000, it covers 1,900 square miles, much of which is mountainous and uninhabited. Here, it's not unheard of to see moose walking down the middle of the street, especially in the foothills and bears are occasionally spotted in residential areas too.
Hop on the complimentary shuttle that will bring you to your accommodation. You'll have time to get settled in and refreshed before taking advantage of the multiple shopping options in downtown. Or, enjoy a stroll on the Tony Knowles Coastal Trail which runs 11 miles from downtown Anchorage to Kincaid Park.
A local guide will meet you in your hotel lobby this evening for a welcome dinner and then the rest of the evening is yours to explore!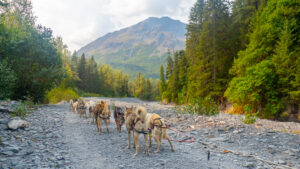 A thrilling day awaits ahead, with a scenic trip to Palmer, Alaska for your first stop of the day at...the Musk Ox Farm! Here you will learn all about one of Alaska's very special animals. Alaska Natives have used Musk Ox fur to make Qiviut, the finest wool in the world, for centuries. Since the 1950s, the Musk Ox Farm has been dedicated to domesticating the Musk Ox and spreading awareness of their necessity to Alaska!
Your next stop will be in Wasilla, Alaska. Here you will visit the Iditarod Museum, renowned for its dog sledding history.  Learn how the Iditarod is ran, an 1,100-mile race of character and endurance. Lunch will be provided in Wasilla.
After lunch, your journey continues to Denali by traveling the Parks Highway through Alaska's Interior. This will give you a chance to catch a glimpse of the over 20,000-foot-high, Denali! The park is considered one of the best places in America for viewing animals, thanks to its diverse habitats with forest at lower elevations, tundra in the middle, and snow and glaciers around its highest peaks. Upon arrival to Denali, you will be brought to your accommodations for the evening where you'll have the choice to take part on an evening hike in Denali National Park, explore the downtown Denali area, or take time to rest. The choice is yours!
After dinner, enjoy free time in Denali! Take a walk on the wild side and venture into the downtown area of Denali for a true Alaskan experience!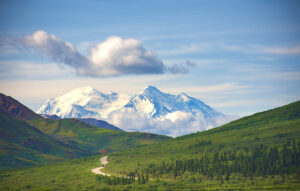 Today, you'll enjoy waking up in Denali! You will have the entire morning here dedicated to exploring the park and all it has to offer. Included in today's activities will be a hike on the Savage River trail. Offering gorgeous views of the Alaska Range and providing an excellent opportunity for wildlife sightings, this trail is one you will want to return to on Denali Part Two! If you are looking for something a bit more adventurous, you will have an E-Bike waiting to take you on a ride through Denali like you never could have imagined. A guide will be at the front of the pack to help spot wildlife and navigate the trails in Alaska. Not into biking? That's okay! Take your swing at golfing in Denali National Park, a 9-hole course surrounded by lush wilderness and towering mountains. Relax and enjoy your afternoon on the course!
Looking for to journey to the wild side? We have just the adventures for you! Take your spin at navigating an ATV through Denali National Park! OR Rent a Jeep and drive yourself through Denali National Park, stopping at your leisure and allowing you to have a unique and private opportunity to create life long memories! OR Zip-line through Denali's tundra! Explore 7 different zip-lines at varying speeds and heights, while taking in the inspiring views surrounding you. Must choose one activity for the day that is included in the tour price, any additional activities will have a fee. Please speak with your booking coordinator for more information on adding activities to your itinerary.
After your craving for exploration has been satisfied, you will board the Alaska Railroad and begin your first class journey to Fairbanks, Alaska! Sit back and relax with dinner and two drinks included on the train. Enjoy a glass of bubbles while soaring past mountain ranges like you have never seen before!
Upon arrival to Fairbanks, your tour guide will bring you to your accommodation where you will have the rest of the evening free to explore!
4
Day 4: The Springs are Singin'!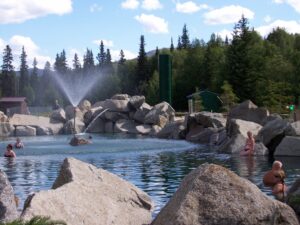 After some incredibly fascinating, jam-packed days, it's time to enjoy some relaxation, with a laid-back day at Chena Hot Springs Resort, which lies in the shadows of Mount Denali and was founded during the peak of the gold rush. Home to historic buildings standing testament to local craftsmanship, having endured more than a century of harsh weather. Today, Chena Hot Springs Resort is renowned for their spring's incredible healing power and amazing activities!
Before journeying to Chena Hot Springs, you will first stop at the Museum of the North, where you will learn about different Native cultures, natural wonders, diverse wildlife, Arctic dinosaurs, and 2000 years of Alaskan artwork. Lunch will be served at the museum.
Upon arrival to Chena Hot Springs, your guide will bring your luggage to your room and you will have the opportunity to take a tour of Chena Hot Spring's Ice Museum with an included signature Appletini will be waiting for you to take part in after arrival. One your tour is complete, the rest of the day is yours to explore or soak in the Hot Springs to your heart's content!
5
Day 5: Christmas in the Summer!

This morning, you will enjoy waking up at Chena Hot Springs where you will be served breakfast before boarding your luxury tour coach to Denali for round two! We believe that one day in Denali just isn't enough, so we added one more day to ensure YOU have the opportunity to experience Denali how YOU want to!
Before heading you Denali, you will make a quick stop at Santa's Workshop in North Pole, Alaska where it's Christmas year-round! Light poles doubled as candy canes and reindeer roaming, you'll be sure to find souvenirs for everyone back home during this adorable stop!
Upon arrival to Denali, you will have the same choices available to you as Day 2. Please click HERE for more information.
After dinner, you will once again be presented with the opportunity to venture on the wild side and experience Denali nightlife or you can retire early, the choice is yours!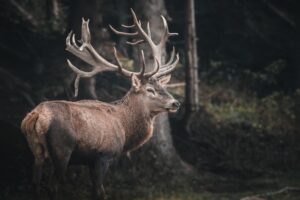 After breakfast, today you will travel from Denali to Talkeetna, a town full of rich history and surrounded by breathtaking mountains and winding creeks. The first stop of the day will be a flight-seeing tour around the Denali and Talkeetna area! This experience is included in the price of our tour! Read more about flight-seeing
HERE
.
After your tour of Talkeetna, you will head over to lunch at Denali Brewing Company before boarding your luxury tour coach to Palmer, a town full of rich farming history, surrounded by mountains that will be sure to blow you away. Your next stop will at the Reindeer Farm, home to more than 100 reindeer and different Alaskan animals! You will have the opportunity to feed moose, reindeer, alpacas, and more! The family owned farm has been in operation since the 1950s and the first herd of reindeer were brought in from North Carolina in 1987, the Williams can't wait to welcome you!
Now that you have had your fill of reindeer and moose encounters, you will board your luxury tour coach to spend the rest of the evening in Anchorage!
Upon arrival, you will enjoy a one-hour city tour of Anchorage, where you will visit Earthquake Park, Lake Hood, and hopefully catch a glimpse at wild moose roaming the streets of Anchorage. Dinner will be had as a group at 49th State Brewing Co.
After dinner, enjoy free time walking around beautiful downtown Anchorage. Stroll the streets, jump in and out of gift shops, and local breweries, or take yourself on a short walk on the Tony Knowles Coastal Trail. Your tour guide will be happy to offer recommendations for activities to do this evening after dinner.
.
7
Day 7: Mountains and Glaciers and Wildlife? Oh my!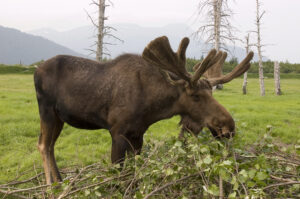 Your day begins in Anchorage with breakfast at your hotel. After, you will board you luxury tour coach and begin your journey along the Seward Highway, look forward to traveling one of Alaska's most breathtaking roads. You'll follow Seward Highway from Turnagain Arm to Girdwood, with dramatic views of the Alaskan wilderness at every turn. Glimpse at the soaring peaks of the Chugach Mountains, cascading waterfalls, blue-tinged glaciers and sparkling valley lake while watching for wildlife like bald eagles, Dall sheep and even Beluga whales.
. Your first stop of the day is at Alyeska Ski Resort. Here you will have the opportunity to upgrade your experience with a ride on the Alyeska Aerial Tram or take a short, scenic nature walk! The tram boasts 360 degree views of mountains, glaciers, and ocean...one of the only places in Alaska where you can see all three at once! Virgin Creek Falls is also a highly recommended hike in the Girdwood area that is available for you to take part in place of visiting Alyeska.
After you visit Alyeska, your next stop along your journey will be at the Alaska Wildlife Conservation Center, home to Denali's Big 5 and so much more! You will have the opportunity to view bears, moose, caribou, foxes, wolves, musk ox, bison, and the list goes on! A stop here is always a top recommendation for Alaska visitors. Boxed lunch will be provided at the AWCC.
Now that you have truly gotten your fill for Alaskan wildlife, you will board your luxury tour coach and head over to Whittier, the small port town hidden behind a mountain. Whittier can only be accessed by driving through North America's longest one-way tunnel, just over 2 miles in length! Here you will have the opportunity to explore downtown and shop, or join your guide for a tour of the town building, where you will find homes for the residents of Whittier, the post office, grocery store, and even doctor! Experience the beauty of a town nestled deep in Alaskan wilderness with awe-inspiring coastal views! A hike to Byron Glacier will also be included during this stop.
After your stop in Whittier, you will board your luxury tour coach to finish your journey to Homer for your first night at the legendary Land's End Resort! Dinner will be had upon arrival to Homer.
8
Day 8: A Beary Great Day!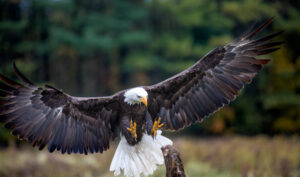 Today, you will enjoy waking up in the beautiful tiny town of Homer, the halibut fishing capital of the world and one of the best places in the state to spot Eagles!
Your included tour for the day will be a Walking History, Shopping, and Nature tour of Homer with your tour guide. You will visit the Homer spit, where you'll find an abundant population of eagles, tourist purchasing all their Alaskan tchotchkes, and stop into the Salty Dawg Saloon, a Homer institution!
Looking for something a little more adventurous? Click HERE for a list of Homer upgrades!
After your tour, you will be brought to dinner with the group and then you will stay in Homer for one more evening.
9
Day 9: Sold on the Kenai!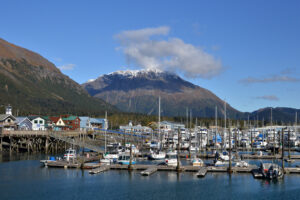 This morning, you will enjoy waking up in beautiful Homer, Alaska for the last time. After breakfast, you will board your luxury tour coach to begin your journey to Soldotna, Alaska! Nestled between Kenai and Cooper Landing, Soldotna is home to the Kenai Wildlife Refuge and the Soldotna Historical Society and Museum, which will be your first stop of the day! Enjoy learning about the rich history of the first settlers to Soldotna and how this community was built into the bustling town it is today.
After your visit to Soldotna, you will begin the journey through the Kenai Peninsula to Moose Pass, home of Alaska's number one floatplane school! 1 in 41 Alaskan's have their pilot's license, so this tiny town is very proud of their float plane history!
Dinner will be at Trail Lake Lodge, the only restaurant and lodging in Moose Pass! Here you will be treated to a fantastic Alaskan meal before continuing onto Seward for an overnight stay!
A late evening arrival to Seward will allow for you to choose where the night takes you! Live music and locals can always be found in the downtown streets of Seward or maybe you take the evening to relax in the comforts of your accommodations, either way, the choice is yours!
10
Day 10: Blowin' Bubbles!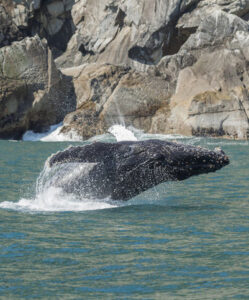 Your day begins waking up in magical Seward, a small, picturesque coastal town with a boat harbor in Resurrection Bay. The glistening waters are frequented by orca and humpback whales, sea otters, sea lions, porpoise and harbor seals.
Your first activity of the day will be admission to the Alaska SeaLife Center, renowned for their incredible rescue and rehabilitation work with animals in Kenai Fjords National Park and Resurrection Bay. Here you will be able to capture some of the best views of Resurrection Bay and potentially see a humpback from the viewing platform!
After viewing Resurrection Bay, you will have the opportunity to get on the water yourself! You will head over to Major Marine Tours for a 4-hour Glacier and Whale watching tour through Resurrection Bay. Keep your cameras out, wildlife sightings here are endless! You will have the opportunity to view all sorts of marine wildlife, like Orcas, Humpback Whales, Sea Lions, Sea Otters, Seals, Eagles, Bears, Mountain Goats, and over 50 different bird species! Lunch will be served on board.
Looking for something a little more adventurous? Click HERE for a list of Seward upgrades!
Upon return to the Seward Small Boat Harbor, you will join the group for dinner at a local favorite, Ray's Steakhouse, known for their delicious fresh fish and steaks that will knock your socks off! Enjoy the rest of the evening in Seward to yourself, take part in the nightlife of Seward or enjoy an early night in, the choice is yours!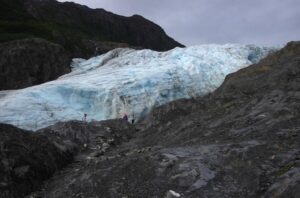 Your morning begins with breakfast at your hotel before you begin your journey back to Anchorage for your departure flight anytime after 2pm. Before you depart Seward, you will make a quick stop at Exit Glacier, Alaska's most accessible glacier! Exit Glacier is fed by the Harding Ice Field, which feeds over 35 different glaciers in the area. Enjoy a short hike to the viewing point and listen closely for the sounds of shifting, melting ice. You will also have the opportunity to walk along side Resurrection River, which is fed directly by Exit Glacier.
Once you've gotten the rest of your glacial needs met, you will board your luxury tour coach for the last time to journey up to Anchorage for your flight home.
Overnight accommodations are not included on the last day, if you plan to stay in Anchorage overnight, please let your booking representative know.
Tour Location
Anchorage - Denali - Talkeetna - Anchorage - Seward