Alaska Highlights 5 Night/6 Day Guided Land Tour
$4500
per person
Our Alaska Highlights fully-guided, all-inclusive land tour is the perfect adventure for independent travelers or groups. This tour starts in Anchorage and ends in Anchorage. Additionally, the schedule will also work well as a pre-cruise tour for passengers embarking the Royal Caribbean or Celebrity cruise on Fridays in Seward.
Tour Description
The Alaska Highlights 5-day itinerary will bring you to experience the major highlights of Alaska from its dramatic mountain ranges and coastal scenery to Alaskan wildlife. You'll venture into the rugged interior of Denali National Park to watch for its "Big Five", including moose and bears, while marveling at the awe-inspiring mountain views. You'll have the opportunity to experience all the summer highlights of Alaska, from Talkeetna to Girdwood, and down to Seward, we know this 6-day Alaska Highlights Land Tour will be one to remember!
Our Alaska Highlights tour features flightseeing around Denali National Park, a glacier and whale watching cruise in Kenai Fjords National Park, and so much more!
Tour Highlights
Anchorage + City tour
Iditarod Museum
Flightseeing around Denali National Park
Savage River
Denali National Park
Reindeer Farm
Palmer
Talkeetna
Alaska Wildlife Conservation Center
Moose Pass
Alaska Sea Life Center
Wildlife viewing
Glacier and Whale Watching Cruise through Kenai Fjords National Park
Activity Level and Appropriate Age:
This tour is suitable for all activity levels and ages.
Group size: 
Up to 30 people on this tour.
Tour Dates and Options:
Tour is available May, June, July, August, September
Please inquire directly about tour dates.
This tour schedule is also coordinated for passengers embarking a cruise from Seward on Fridays.
Our representatives can help you customize any of our tours.
Call us directly for any questions: 907-414-6454
Departure

Tour starts in Anchorage and ends in Anchorage (or in Seward if you are embarking the ship on Fridays)

Included

Accommondation

All Activities as per itinerary

All Meals

All Transfers

Baggage Handling

Fully Guided Service

Gratuities

Professional Tour Guide

Taxes
1
Day 1: Arrive in Anchorage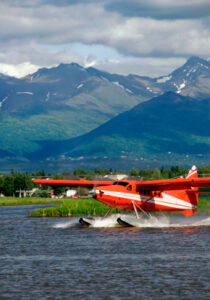 Your exciting journey begins with your arrival into Anchorage, Alaska's largest city. While it's home to more residents than any other city in the state with a population of over 300,000, it covers 1,900 square miles, much of which is mountainous and uninhabited. Here, it's not unheard of to see moose walking down the middle of the street, especially in the foothills and bears are occasionally spotted in residential areas too.
Hop on the complimentary shuttle that will bring you to your accommodation. You'll have time to get settled in and refreshed before taking advantage of the multiple shopping options in downtown. Or, enjoy a stroll on the Tony Knowles Coastal Trail which runs 11 miles from downtown Anchorage to Kincaid Park.
A local guide will meet you in your hotel lobby this evening for a welcome dinner.
2
Day 2: Travel to Denali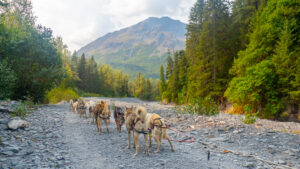 A thrilling day awaits ahead, with a scenic trip to Denali National Park on board your luxury tour coach. The first stop of the day will be at the Reindeer Farm, in the town of Palmer, renowned for its rich farming history! After getting some play time with Santa's favorite sled-pullers, you'll head over to the Iditarod Museum, where youll learn all about the Iditarod! Learn about the mushers who race and their dogs, how they train for the toughest race in Alaska, and more!
After a hearty lunch, you will continue onto Denali National Park! Home to North America's tallest peak, Denali, sitting at over 20,000 feet, it is hard to not be impressed by such a breathtaking sight! You will spend the night in the Denali area and enjoy a fantastic dinner at the Denali Dinner Theatre, where you'll see Alaskan history come to life.
3
Day 3: Travel to Wasilla

Your morning begins with breakfast at your accommodations. Denali National Park is considered one of the best places in America for viewing animals, thanks to its diverse habitats with forest at lower elevations, tundra in the middle, snow and glaciers around its highest peaks. Today, you will have a few different options for adventures!
Choose from an E-Bike Rental to explore the park and trails at your leisure, utilizing the motor to get you up those steep hills! Or take your swing at golfing in Denali National Park! Surround yourself with towering mountains and experience a 9-hole course you will never forget. Looking for something a bit more adventurous? You also have the choice of going on a thrilling Zip-line adventure, ATV adventure, or Whitewater Rafting in Denali! You are given the choice of one activity that is included per day, if you would like to book more than one activity per day, please contact your booking advisor.
After your morning in Denali National Park has come to an end, you will board the Alaska Railroad and journey to Talkeetna, Alaska! Here you will take part in one of the best tours in Alaska, flight-seeing around Denali! Your flight-seeing adventure is included in the price of the tour, enjoy a 1-hour flight taking you to see all the best Denali views. Flight-seeing is the most highly recommended tour in Alaska!
Enjoy dinner in Talkeetna with time to explore, shop, and take in all the breathtaking sights! After dinner, you will board your luxury tour coach and begin the short journey to your overnight accommodations in Wasilla, Alaska. Home of the Iditarod Headquarters.
4
Day 4: Travel to Seward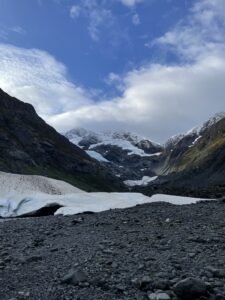 Your morning begins in Wasilla with breakfast at your hotel. After, we will continue onto the Seward Highway for a wonderful tour of Whittier! Home to North America's longest tunnel and home to some of the most incredible glaciers in the state, Whittier never disappoints! Today, you will have the opportunity to hike the Bryon Glacier Trail, a short and easy hike that takes you to the picture above! Visit a snow cave and view two glaciers glistening over head. Lunch will be had in the Whittier area.
Once you have had your glacier fill, you will board your luxury tour coach and being your journey to Portage to visit the Alaska Wildlife Conservation Center. Here you will have the opportunity to meet Alaska's native animals and learn more about how these animals are able to live in Alaska's harsh and unpredictable climate!
Once you've said your goodbyes to your new animals friends, you will board your luxury tour coach and begin your journey to Moose Pass for dinner at the legendary Trail Lake Lodge. After dinner, you board your luxury tour coach to Seward for an overnight stay.
An evening arrival to Seward will allow for you to turn in for the evening, or take a walk on the wild side and venture out to taste Seward's nightlife, filled with interesting characters and fantastic live music.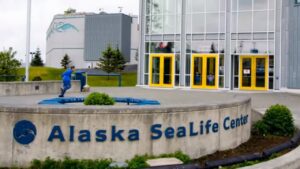 Your morning begins in magical Seward, Alaska! Home of the Alaska State Flag and the 4th of July Mount Marathon Race, Seward offers breath-taking mountains surrounded by the ocean. You will first receive admission to the Alaska SeaLife Center, Alaska's only public aquarium. Their rescue and rehabilitation work with animals in Resurrection Bay and Kenai Fjords National Park is part of the reason Seward has such an abundant sea life population!
After your visit, you will begin your Glacier and Whale Watching Cruise through Kenai Fjords National Park with Major Marine! This 6-hour cruise will get you right up close and personal with a tidewater glacier, sending chills through your entire body. Watching for glacier calving and keep your eye out for Dall's Porpoise playing in the wake of the boat. Lunch is provided on board your cruise.
Looking for something a bit more adventurous? The tours listed below do have a change fee associated, please contact your booking advisor if you are interested in switching from the Glacier and Whale Watching Cruise to one of the options listed below. Kayak Adventure through Kenai Fjords National Park! Deep Sea Fishing for Halibut, Salmon, Rockfish, and Lingcod.
For the hikers, you will have the opportunity to hike Mount Marathon. There is no change fee associated with this tour. Every 4th of July in Seward, residents will take their turns barreling up and down this 4,826 foot tall mountain in hopes of claiming the title of winner. You won't have to race, this will be a slow and steady hike, but is recommended for those who have experience hiking and are in good physical health. This tour may be chosen
in place
of the Glacier and Whale Watching Cruise. Lunch is after the hike, snacks will be provided during.
After your return from your chosen activity for the day, you will join the group for dinner. The rest of the evening will be yours to enjoy!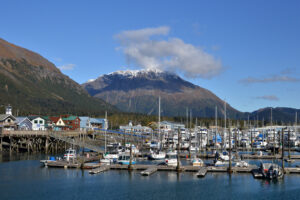 Enjoy waking up in beautiful Seward for the last morning. Today, you will either be transported back to Anchorage for a flight departing anytime after 2pm or you will be embarking on an Alaskan cruise! Before your departure from Seward, you will have the opportunity to hike Exit Glacier, Alaska's most accessible glacier. Here you will take a short hike to visit Exit Glacier and see a living ice form less than 20 feet away.
Once finished at Exit Glacier, those who are embarking a cruise out of Seward will be dropped-off at the Seward Cruise Terminal before the rest of the group return to Anchorage for departures after 2pm out of Ted Steven's Anchorage International Airport. Accommodations are not included tonight, but can be coordinated for those with an early morning departure. Please inquire at the time of booking.
Tour Location
Anchorage - Denali - Wasilla- Seward